Description
Quality, character, versatility, and longevity are increasingly emphasized in residential and industrial/commercial construction. Solid copper shakes are made from 16oz. copper stock and provide a permanent roofing surface that will not deteriorate once the normal oxidizing process creates the characteristic soft green patina of real copper. Steel shakes are galvanized steel with a baked enamel finish that makes a wide range of colors available. Gregg steel shakes are light weight; approximately one-tenth the weight of concrete or one-third the weight of conventional asphalt shingles. Light weight and strength allow a versatility of design shapes and roof lines not possible with conventional materials and without need of special structural support. A Gregg roof requires little or no maintenance.
Product Application
Gregg Steel Shakes are suitable for all profiles that equal or exceed a 4/12 pitch and may be installed on vertical surfaces making them ideal for mansard style roofs. Gregg steel shakes may be installed on new roofs with or without sheathing and on existing roofs. The system can be used where increasing insulation on the exterior of the roof is desirable and where a change in pitch is needed for improved drainage.
Benefits
New roof construction does not require sheathing under steel; a considerable cost saving. An existing layer of asphalt, cedar or steel may be left in place when installing gregg steel shakes. The system is self-ventilating. Ice and snow do not accumulate. Heat is quickly ducted away for improved summer cooling. Light-weight gregg steel shakes(1lb per sqft) do not tstress existing roof structure, yet are strong enough to walk on. Smooth suface washes clean in the rain. Birds do perch readily. Debris from trees will not accumulate.

Colors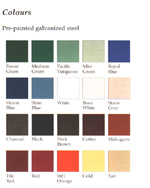 (Click this image to get bigger view)